Steam Locomotives of India~ the complete site on Indian steam
Private Steam Locomotives
Photographs and content - Dileep Prakash
There are a few oasis of steam traction in non-IR private lines. I have found running locos in Upper Assam at the Ledo Brick Works and the Tipong Colliery of the N.E. Coalfields. This part of Upper Assam is beautiful with its rivers and bamboo thickets that grow within the forest. The Tipong Colliery is 25 km from Margherita which is the last rail head 50 km from Tinsukhia.


'Bridge over the River Kwai' - Tipong, Assam.
The drive is along an old meter guage rail track on which steam locos ran till 1997. The road too has a colourful history - it is the Stilwel Road - named after General Stilwel of the Second World War.

At Tipong there were 4 steam locos - all ex-DHR 0-4-0 ST's. Two have been condemned and one is under repair. Only one steam loco runs between the mines and the loading point pulling coal wagons. It covers a track of 2.5 km several times a day and passes one fantastic bridge (see photo on the left) which reminded me of 'Bridge over the River Kwai'.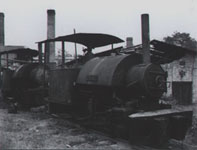 The North Eastern Coalfields has a brick factory at Ledo 8 km from Margherita. The Ledo Brick Works uses two steam locos - NAMDANG a 0-4-0 Saddle Tank manufactured by W G Bagnall, Strafford in 1894 and DAVID a 0-4-0 ST made in 1924.
These two are really small locos that haul a run of 6-8 trolleys full of sand from a sand pit about 1.5 km from the Brick Works. Few other condemned locos are lying in the yard.
David & Namdang at Ledo
Top
© Dileep Prakash - All rights reserved

Korba
I visited CSEB, Korba in Chattisgarh in late December to find only one steam loco remaining out of the 5 that they had. The AWE1, 3315 is still working.
The loco is in bad shape and we had to paint it before running it and shooting. I should be putting some photos of it soon.