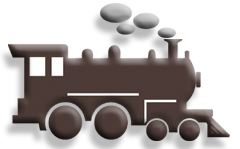 Steam Locomotives of India

the complete site on Indian Steam Dileep Prakash

Steam Specials & Heritage Steam
The HGS at Howrah shed, September 1999.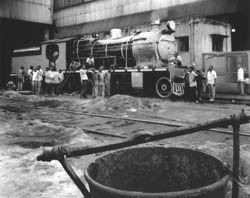 India has woken up to the preservation of steam and the possibilities of earning revenues through steam specials.
The following steam specials run on the IR system: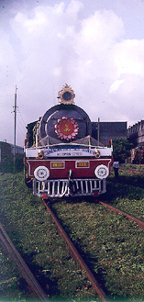 HGS
1. The Royal Orient - The R.O runs during the cool season (October ~ March). It is hauled by a YP from Delhi Cantt till Rewari Jn. After that it is pulled by a YDM2.
2. Palace on Wheels - The P.O.W is a BG train which again runs October thru March.
3. Fairy Queen - The F.Q runs November thru February between Delhi Cantt and Alwar (in Rajasthan) on every alternate weekend.
4. Millenium Express - This is a planned run between Howrah and Tribeni (in the Eastern sector) pulled by the HGS of 1920 antiquity.

Details of Locomotives:
1. N Delhi - Kitson, Thompson & Hewittson, Leeds 481 1855 EIR Working 2-2-2 - 5ft 6in 22 Fairy Queen
2. Rewari - Telco 505 1960 2-8-2 - 1000mm 3724 - YG Royal Orient, Delhi to Rewari
3. Rewari - Telco 696 1962 2-8-2 - 1000mm 3415 - YG Royal Orient, Delhi to Rewari
4. Rewari - Telco 719 1962 2-8-2 - 1000mm 3438 - YG Royal Orient, Delhi to Rewari
5. Howrah -WBC 132 1920 2-8-0 - 5ft 6in 26761 - HGS Millenium Express, Howrah toTribeni
6. Mumbai - CLW - 1965 4-6-2 - 5ft 6in 7161 - WP Palace on Wheels & future special duties
7. Madurai -Telco 1926 2-8-2 1000mm 4205 - YG Golden Rock Workshop, proposed 'Southern Palace on Wheels'
8. N Delhi - Poland Chrzanow (CLW) - 1958 4-6-2 - 5ft 6in 7015 WP, NRM, running heritage. WP 7015

Fairy Queen at Alwar, Nov'99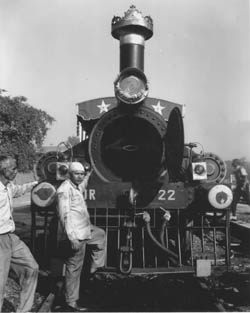 Mountain Railways of India
Museums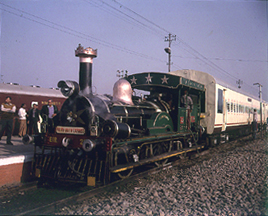 Preserved Locos by IR and Private Companies
Graveyards
Back to main page

ALL PHOTOGRAPHS COPYRIGHT ~ DILEEP PRAKASH Feedback